Smart BrushSync Toothbrush heads
BrushSync is an innovative piece of technology made up of 2 different features. They aim to bring an added convenience to electric toothbrush users.
First introduced in 2017 by Philips Sonicare on their premium model, the DiamondClean Smart, the technology is slowly being added to new brush handles as their range develops.

You can identify the Smart brush heads by the Smart icon at the base of the brush head as shown in the image below.

A microchip in the Philips Sonicare Smart brush head tells your DiamondClean Smart which brush head you are using. So if you click on a gum-care brush head, for example, your toothbrush knows to select the optimal mode and intensity for that brush head.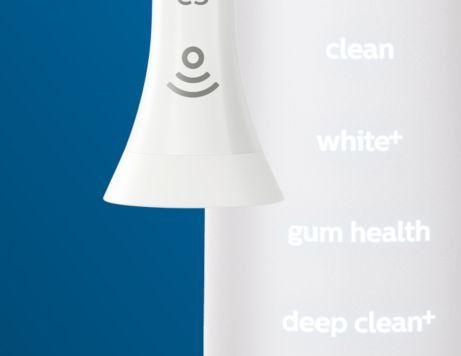 Breakthrough brush head design

BrushSync Microchip-enabled technology detects and synchronizes a smart brush head with a smart handle to optimize brushing performance

Mode pairing Automatically selects the optimal mode and intensity level for exceptional results

Replacement alerts Effectiveness is tracked based on brushing time and pressure, alerting patients when to replace a brush head on both the handle and app screen

Reminder bristles Blue reminder bristles fade to white within three months of normal use to help patients recognize when it's time for a replacement

Click-on compatibility Brush heads are interchangeable for all click-on Philips Sonicare handles*

* Not compatible with PowerUp or Essence